The famous Italian bolognese sauce, comes from the city of Bologna and it's a classic Italian pasta dish.
In Italian the bolognese sauce is called "ragù" or "ragù alla bolognese".
The basic recipe is quite simple but it requires several fresh ingredients and a long time to cook – up to 5 hours – therefore, if you want to taste the Italian ragù sauce, but you don't want to spend hours in kitchen, you can now order high quality Italian bolognese sauce directly from Italy.
Summary of the Bolognese sauce
Best bolognese sauce to buy
| Ranking | Bolognese sauce brand |
| --- | --- |
| 1 | Alessio Brusadin, ragù di manzo |
| 2 | Plateau pasta, regù di cinghiale |
| 3 | Ragù di Chianina, Accademia Toscana |
| | |
| | |
| | |
| | |
| | |
| | |
| | |
| | |
My sauces are made with selected meats are reared naturally, grazing, or wild.

Alessio Brusadin
Brusadin's sauces are all 100% entirely free of preservatives and each one is made using only one kind of meat. They are made following traditional recipes and slow and long cooking processes in order to exalt delicious scents and flavours. All the flavour of a top restaurant in the convenience of a jar.
The recipe of the bolognese sauce
Just to give you a quick idea of how the Bolognese sauce is made, here are the basic steps:
Slowly braise (or shallow fry or sautée) the finely chopped celery, carrots and onion;
Add a mince beef or mix of beef and pork mince, or sausage meat etc
Add good Italian red wine
Cook on low heat for several hours from 3 to 5
After cooking it can be frozen and preserved for several months.
History of the Ragù alla Bolognese
Ragù alla Bolognese is the king of the Italian sauces in the world, ideal for seasoning excellent pasta dishes such as lasagna, tagliatelle and gnocchi.
There are many versions of the ragù bolognese, the recipe changes from region to region, but the essence of the ragù is the sauce with tomato and mince meat.
The orginal recipe of the Bolognese sauce has been registered at the Chamber of Commerce of Bologna in 1982. But the origins of the receipe can be traced back to the Roman times in the version without tomatoes.
The name ragù comes from the French word "ragout" which means to awaken the appetite, to renew the taste, to give more flavour.
It is said that in France the cook of Louis XIV, king of France, of Bolognese origin, had the idea of ​​grinding the stew and using it to season pasta.
Follow it step by step and you will be amazed!
Important things to know about Bolognese sauce:
The original bolognese recipe contains milk, so if you are allergic to dairies you should check the ingredients list or ask the chef before you order.
Instead the majority of sauces that are prepared and sold online including our products, don't contain milk.
The variants or the bolognese sauce:
Beef and Pork mixed meat Bolognese ragù
Wild boar ragù, ideal for a gamey taste
Duck ragù either with tomato or white (without tomato)
Hare ragù – bolognese sauce
Ready to use Bolognese sauces
If you want to live the Italian festive lunch experience, which is every Sunday in Italy, and serve an amazing plate of Italian pasta in less the 20 minutes, you can buy one of the artisanal ragù brands that we have selected, tasted and recommended for you.
Ready made sauces weren't so good a few years ago, but now we have some chefs and artisanal producers who create good quality sauces without preservatives.
Preservatives are not necessary because the glass jar is vacuumed through steaming or boiling and you use the whole content of the jar once. Therefore it won't sit open in your fridge for days.
There are small virtuous companies and famous chefs that make the ragù in an artisanal and ready-to-use way, mono-meat or mixed beef and pork, starting from selected raw materials, also certified Igp, Dop and Slow Presidia Food.
They are made with the highest quality ingredients: beef from fine breeds (Chianina, Piedmont, Romagna, Marche, Reggiana red cow), ancient rustic pig breeds raised semi-wild (Cinta Senese, Mora Romagnola, Nero brado d'Aspromonte, Caserta), fresh tomato and even terroir (San Marzano Dop), extra virgin olive oil, fresh condiments, Cervia salt
Where to buy online with international delivery
The hare ragù
The hare ragù is a widespread preparation in the Umbrian-Tuscan Apennines, where this type of game can still be purchased directly from the farmers.
It is a tasty alternative to the classic ragù and it's perfect for those who love the strong and robust gamey flavours, or simply want to try something different.
Types of pasta to dress with Bolognese sauce
Spaghetti – Long pasta, very thin
Tagliatelle – Long pasta, 0.5 centimetres wide
Pappardelle – Long pasta, 3 centimetres wide
Tortiglioni – Short pasta like maccheroni
Maccheroni, Short pasta
Lasagne, baking pasta
Pici with duck ragù
I had this amazing plate of pici with duck ragù at the Il Guscio restaurant in Florence.
Where to buy
You can order directly from Italy from https://alessiobrusadin.it/en/
FAQs
Can I order ready made bolognese sauce from Italy?
Yes, you can order the traditional bolognese sauce from Italy from https://alessiobrusadin.it/en/
What the difference between Ragù and Bolognese sauce?
Bolognese sauce is another name for 'meat ragù' – they mean the same thing
Is bolognese sauce gluten free?
The bolognese sauce produced by Alession Brusadin and presented here are Gluten Free.
How long does it take to cook bolognese sauce (meat ragù)?
The traditional recipe, which is made with beef, takes up to 5 hours of simmering on very low heat. However you can prepare a quick version of the ragù using veal meat which is more tender and requires less time to cook. Recipe here in Italian.
How much ragù sauce should I use for 100 gr of pasta?
I would recommend 100 grams of sauce for 100 grams of pasta.
Should I put grated parmesan cheese on the spaghetti bolognese?
The parmesan on spaghetti bolognese is used often in Italy. I'd suggest you taste the flavour for the pasta dressed with the sauce before you add the parmesan, sometimes the sauce is tasty enough and doesn't need parmesan.
Is ragù sauce sustainable?
Yes, if you think about it you use only few grams of meat per person per dish. While eating a steak is non sustainable in our opinion, eating a few grams of meat with tomato sauce and pasta it's sustainable for the environment.
Should I use extra-virgin olive oil in the preparation of the ragù at home?
Yes, you should use EVO oil of the highest quality and with a balanced taste, this will make your sauce more healthy and authentically Italian tasting.
Is ragù sauce good for my health?
Ragù sauce is made with fresh vegetables like carrots, celery and onion, tomato and red meat. We know we have to limit the amount of red meat we eat, however in a dish like spaghetti alla bolognese we have around 50-60 grams of red meat per portion which is sustainable for the body if you eat it every once in a while.
About the author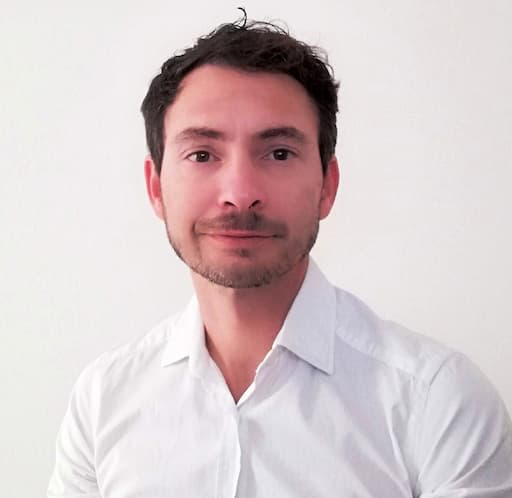 Enrico Fantaguzzi is Italian, born in Pavia, he lived in Milan, London, Bologna and now he lives in Florence, Tuscany.
He works as free lance e-commerce and digital marketing consultant.
He built his experience in the Italian food and wine industry by experiencing it directly, studying, carrying out research and working in the sector.
He cooks every day for himself and his wife. His favourite ingredients are pasta, vegetables and fish, with attention to sustainability and responsible farming.
More info at enricofantaguzzi.com